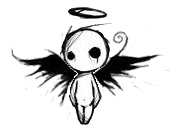 weee....lme gler x update blog... da berabuk da..huhu.. tp aq rase umah aq lg berabuk..ngeh3.. asal ble aq on9 je.. kalo nk carik pape msty kuar gmba antu la ape la... skunk ni musim hallowen ek? hmm.. lantak la..
well.. skunk ni holiday da start.. mm, maybe x g jln mane2 kot spanjang cuty ni.. will b really2 buzy mengemas umah.. (yeke? haha)..ary ni ayah xde kt umah... so, i'm

FREE

..! mwahahaha
.. ske nyew... =p
n kepada sahabat2 ku yg tersayang yg maybe sedang mmbace blog ni.. U SHOULD BEWARE DEAR.. x bek aw.. bce blog org.. ish3... n kepada peminat setia chucky... kalo tgh bace mcg aq ye... aq x kutuk ko la..huhu.. adoy.. cne la korang bley jmpe blog aq neh.. hmm... rasenye link dye da ckp merepek da.. ke nk kne tukar link lg? kalo menurut saranan pakar psikiatri(btowl ke eje dye ni?) aq, patut tukar ke 'queen of husnaland'... hahaha
.. nape? sbb aq x psl2 dapat gelaran queen of the night mse mlm jamuan ostel ary tuh.. adush...podot bangat!! da la kne sanding kt depan.. huk2.. n hasilnye.. esoknye sume owg pggl aq queen... shit.. huhuk..

hmm...
xtaw la nk borok ape... mls la dah taip.. haha.. daa~
huh? nape tajuk dye cuty2 cinta?? ske aty aq la blog aq.. heheh...
P/S~ YG PENTING PMR DA ABES!!!